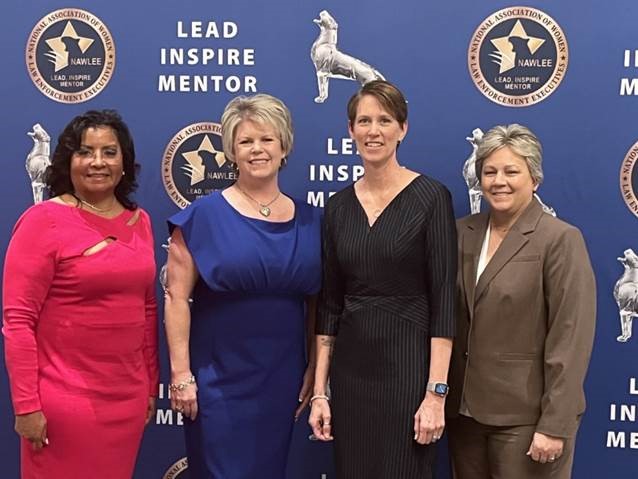 On April 13, 2023, at the annual National Association of Women Law Enforcement Executives (NAWLEE) conference in Houston, TX, UW-Madison Police Chief Kristen Roman was named NAWLEE Woman Law Enforcement Executive of the Year. This award is presented to individuals who have made extraordinary accomplishments in the areas of increasing female representation in law enforcement, innovation and creativity, special achievements/contributions to improve policing, and more. Chief Roman was nominated by her peers and was selected by the NAWLEE board to receive this award.
"I'm truly humbled and deeply grateful to receive this award, and so very honored to join such a prestigious and accomplished succession of women law enforcement executives," Chief Roman said. "After 33 years of service filled with countless opportunities, challenges, lessons, and rewards, there's one thing I know for certain: I would not be where I am today were it not for the many brave women who came before me and all those who have helped me along the way."
The Woman Law Enforcement Executive of the Year is a professional recognition of someone who has exhibited sustained extraordinary professional accomplishments. The nominations are assessed using the following criteria:
Leading change: shows creativity, initiative, flexibility, and innovation to produce results that are important to the service community. Indicate unusual vision in leading organizations or projects that have been successful.
Leading people: demonstrates success in building and maintaining a Law Enforcement / Police work force that is diverse, well trained, highly motivated, and productive. Indicate how the nominee managed the capabilities  of employees and other people to build a shared vision, aligned support for the vision, and motivated and encouraged people to work together to achieve significant results.
Results driven: exceptional record of achieving important program or organizational results. Indicate measurable, observable, special achievements and/or contributions to improving the quality of Law Enforcement.
Business acumen: has managed the organization's human, financial, material, and information resources in a manner that instilled the utmost public trust and advanced the organization's mission. Indicate specific business decisions and innovations that assisted in achieving or enhancing a departmental goal.
Building coalition and communication: exhibited an unusual level of cooperation and effort with others, whether within the organization, community, or other agencies. Indicate the specific actions that made this possible.
Congratulations to Chief Roman for earning this well-deserved, prestigious award!